Client Budget:
$1.5k per month
Services:
Managed SEO, Guest Post Service, PR Distribution
Background
This website caters to those interested in travel and specializes in guided tours in Australia.
Because this customer already had their content staff, we concentrated only on link building.
They initially purchased several of our Guest Post packages from us in March 2021 and witnessed fantastic development; later, in April 2022, they signed up for our managed SEO service.
When they first began purchasing packages from us, we predicted that their monthly traffic would be around 1,700, but it has already increased to almost 10,000!
245%
Traffic Increased
Curabitur ac leo nunc. Vestibulum et mauris vel ante finibus.
#18
Top 10 Ranking Keywords
Curabitur ac leo nunc. Vestibulum et mauris vel ante finibus.
150+
Leads
Curabitur ac leo nunc. Vestibulum et mauris vel ante finibus.
A Look at the SEO Audit
An audit of the website is always the very first thing that we carry out as part of the managed SEO service that we provide.
We consider a variety of factors, including current traffic, backlinks, anchor text, and more.
Because they had an in-house content staff and maintained a high level of consistency, we could not find any penalties on the website, and it got off to a fantastic start overall.
They were already undertaking link building a-la-carte with 5-15 of ACG's DA30+ Guest Post links every month before they joined ACG's Managed SEO.
Having said that, we saw that they were concentrating on exact match anchors; hence, to safeguard this website, we wanted to ensure that the campaign we were constructing had a diverse set of elements. Because this is potentially problematic if you over-optimize your anchor text, we made sure to keep that in mind.
Conducting Keyword Research to identify "Easy Wins" Keywords That Ranked Among the Top 30
We make it a habit to hunt for keywords that will bring us "fast wins" whenever we can. During the preliminary investigation, we discovered 926 easy wins keyword rankings that were between positions 4 and 30.
This was fantastic news, as it meant that many of their pages had significant potential for higher rankings. We collaborated with the customer to choose high-volume targets, and we also used this information to determine the primary keywords that we might employ as anchor text while we were constructing links.
Analysis of the Competitive Gap
The purpose of the competitive gap study is to assist us in locating keywords for which your rivals are ranking but for which you are not at present. These are what people often mean when they allude to "your hidden goldmines."
We discovered 92 keywords that they were not targeting, although their rivals were targeting the same keywords.
In the normal course of events, we would utilize this as a foundation for the development of content; but, given that they had their content creation team, we decided to provide them with this information so that they could generate the material themselves.
Utilize our no-cost search competition tool to get a better understanding of who your primary SEO rivals are.
The Execution of an SEO Campaign
The fact that they were already acquiring links of high quality from us served as a solid groundwork, as I said before.
The following is an illustration of a monthly campaign:
1X Managed SEO

1X 20 guest Posts Ad-on

2X Additional PR
To maintain a beautiful variation in the anchor text that we utilized, it is essential to point out that we used LSI-type keywords that were natural, harmless, and "easy wins."
SEO Ranking Results
The results of this campaign have been outstanding, exhibiting consistent growth from one month to the next.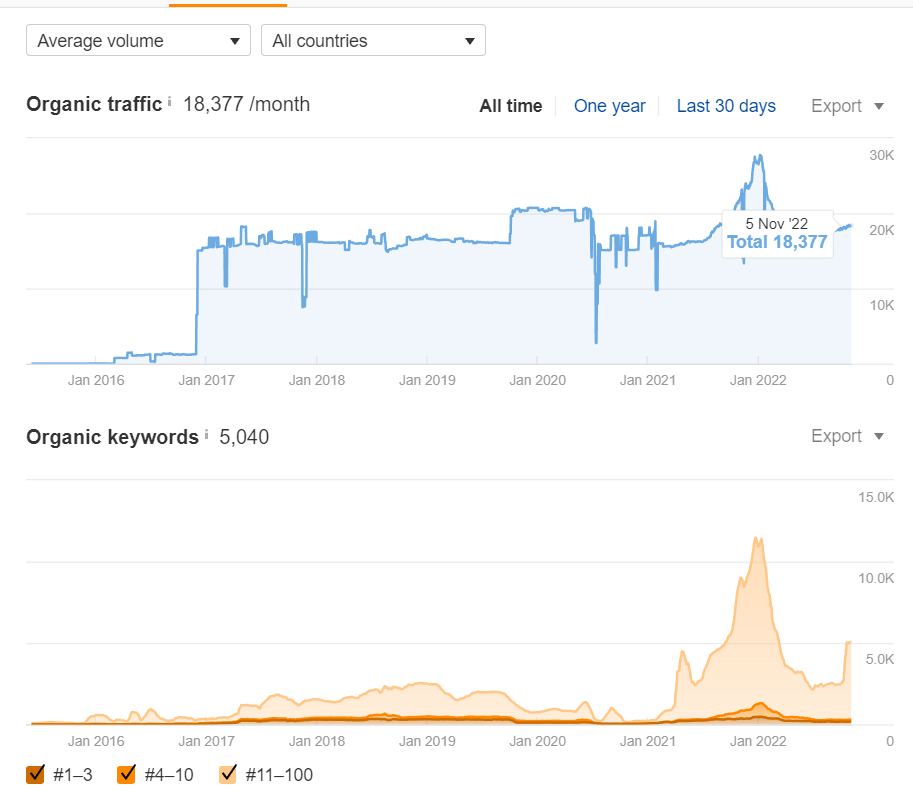 This website currently has prominent positions in search results for highly competitive keywords and has an estimated monthly traffic value of $15,000.

Takeaway
This was an amazing campaign for us but not just because of the work that was done, but also how closely we were able to work with the client.
The client put trust in us to follow the process but also worked closely with our team to identify high targets to focus in on as the campaign progressed.
In addition, because of the larger spend level, our team was able to prepare an additional analysis of competitors, which gave the client insights that helped beyond just the search portion of this campaign and influenced business decisions.
Do you want to dominate a competitive online space? Check out our HOTH X Managed SEO service!