Client Budget:
$3k per month
Duration:
48 months – continue
Services:
Managed SEO, Local SEO, Guest Post Service
Background
The customer at the heart of this case study is an online CBD vendor that takes pleasure in offering only natural goods.
Everything stated on their website is certified organic, farmed in the United States, of the highest quality, and lab-tested by an independent third party.
The client sells topicals, consumables, oil tinctures, and bath bombs to its consumers. What truly separates this firm from other CBD dealers is its selection of dogs.
CBD-infused dog and cat treats and oils are available for purchase. Additionally, they have oil, gel, and ointment for horses.
In October 2019, a marketing representative from the firm reached out to us for assistance with expanding their website. It was released earlier in the year, and we investigated it when they contacted us.
We saw that the client's website was well-designed, navigable, and had a blog. To get the ball going, all we had to do was assist them to improve some of their on-page SEO and develop their CBD SEO material.
245%
Traffic Increased
Curabitur ac leo nunc. Vestibulum et mauris vel ante finibus.
#18
Top 10 Ranking Keywords
Curabitur ac leo nunc. Vestibulum et mauris vel ante finibus.
150+
Leads
Curabitur ac leo nunc. Vestibulum et mauris vel ante finibus.
Complete SEO Audit
If you've never worked with an SEO firm like ours before, you wouldn't realize that we begin each new campaign with a thorough assessment of the client's website.
We must go deeper to determine how sites are built, which keywords are employed, and how their content performs across the internet.
The CBD SEO audit enables us to discover our strengths, shortcomings, and improvement prospects.
Based on the audit results, we may assist a customer in developing and implementing a successful SEO plan.
As indicated above, the client's page appeared to be of high quality.
The issue was that they only had around 175 monthly website views on average.
Why did a website deserving of so much traffic not receive it? A portion of the problem was that they did not rank for enough keywords.
When they contacted us for the first time in October 2019, our audit revealed that they ranked for about 1289 keywords.
And that was the most of the issue. The customer lacked backlinks, which is one of Google's leading ranking indicators. We discovered around 68 connections from other websites. Essentially, our team assisted this customer in starting their SEO from scratch.
We believed we could assist this client increase their consumer base even though good SEO takes many months to get momentum.
Easy Victories For Our Client
In addition to completing a comprehensive site analysis, one of our initial steps is to discover potential "easy win" keywords that might provide a rapid traffic increase.
It can take at least three months for SEO efforts to begin producing results, so it's helpful to increase a client's traffic in the interim so they can earn more money.
So, what precisely is an "easy win" keyword?
These are keywords for which a client currently ranks between positions 20 and 60. All that remains is to boost this position by using these keywords more frequently in content and online text.
Here are a few instances of "easy win" keywords that we've identified for them:
"hemp oil vs coconut oil for skin"

"dmso cbd salve"

"cbd for dogs joint pain"

"Calming Hemp Cat Supplement"
We discovered hundreds of these keywords but chose just those that we believed to be the greatest fit for the client's business.
These keywords would improve their traffic since searchers would be more likely to encounter them while searching for phrases such as "CBD for dogs joint pain" or "Calming Hemp Cat Supplement."
Once all of the "easy win" keywords began to perform, we could spend the next months focusing on the more competitive keywords in positions 1-3.
Examining Competitors' CBD SEO
In the introduction of this case study, we discussed how competitive the CBD sector has been since 2018. Therefore, we had to do a comprehensive competitive gap study to determine what other merchants were doing.
The primary objective of a competitive gap study is to identify high-performing keywords, but we can also obtain insight into their successful CBD SEO techniques that are propelling them to the top of SERP.
Our research identified 48 domains that compete directly with our customers for the same keywords.
Some were extremely comparable to our client (an online CBD retailer with identical product offers), whilst others were nutrition shops or pharmacies that offered a few CBD brands.
For instance, one very comparable website ranked for 6,951 distinct CBD-related keywords.
Our customer and this firm did not share any similar terms, but we were able to mine their website for keywords that would work for our new SEO approach.
These keywords include 
"infused gummies," 

"delta 8 side effects," 

"pure CBD oil,"

"cat CBD," 

"does hemp get you high."
There were hundreds of keywords from which to choose, but we selected just the most successful ones for our customers.
As we launched our new SEO plan, we could additionally utilize these keywords in content and online copy.
The SEO Effort
The next stage was to deploy a fresh SEO strategy that we co-created with the customer utilizing our search engine knowledge and research skills.
This customer was highly interested in developing more product-related material, particularly videos and blog entries.
In addition to educating prospective clients about hemp and CBD, which is essential for any business selling these supplements, high-quality content improves a website's SEO.
We call that a win-win situation!
During the first two months of the client's campaign, we requested films of spokespersons and product demonstrations.
Video material is wildly popular on the web and in social media applications. Videos not only constitute the bulk of internet material but also increase conversions.
One research saw a 130% boost in conversions on landing pages that incorporated short videos.
People may also easily share video footage via social media with their friends and family. The equivalent of free advertisement!
Additionally, the customer requested newly written material for their website via our blog post-writing service. It is one of our most popular products since it links clients with experienced writers for SEO-optimized blog writing.
This customer also found PR Distribution to be a valuable offering from ACG. They were able to syndicate their most successful articles to more than 300 respected sites, such as Ap news and Yahoo. Syndication increases a brand's total exposure and earns them backlinks in the process.
The customer enrolled in our completely managed SEO service in 2020. In this package, the client is allocated a dedicated campaign manager and has access to our whole portfolio of sophisticated SEO solutions.
Once under our SEO-managed service, ACG's guest post received the greatest attention for link building.
Our team of expert writers produced guest articles ranging in length from 500 to 2,000 words and included customized anchor texts and high-performing keywords. They even published the posts on the client's behalf on our network of trustworthy websites.
Clients have the option of focusing on site traffic, domain authority, or a combination of both. As seen below, the customer selected to concentrate on DA:
DA50 Guest Post 

DA40 Guest Post 

DA30 Guest Post

DA20 Guest Post
Our campaign concluded in December 2020, and we were ecstatic with the outcomes. Check out what transpired beneath!
Results of the CBD SEO Campaign
Our favorite aspect of customer service is being able to demonstrate outcomes!
As a member of ACG's Managed SEO, our customers had full access to all of our performance dashboards and we routinely updated them on the status of their campaigns.
One of the first things we saw was the client's tremendous traffic increase.
During our campaign, traffic jumped from 75 to 300 percent. In June 2020, they even hit a record number of visits (380).
During this time, there was also a rise in the rank of keywords.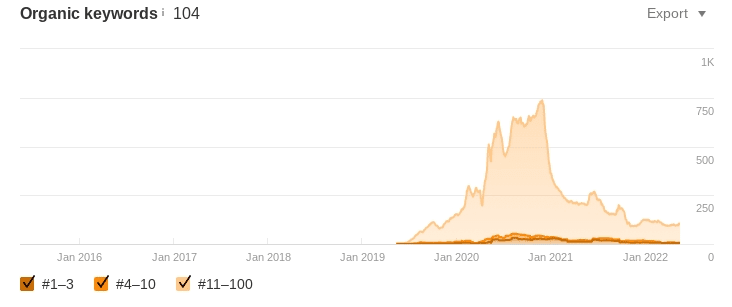 Our "easy win" keywords pushed the client's ranks over the top, and you can also observe the increases we achieved in positions 1-3.
And lastly, all of our efforts to develop excellent content via videos and guest blogs led to an increase in backlinks.

The client's referring domains have increased from 25 when they initially contacted us to over 400 now.
During our campaign, we raised their referring domains by 700%, to 200. This year, their ties have continued to expand.
Building links is one of the finest SEO practices a firm can use.
Takeaway
This was an amazing campaign for us but not just because of the work that was done, but also how closely we were able to work with the client.
The client put trust in us to follow the process but also worked closely with our team to identify high targets to focus in on as the campaign progressed.
In addition, because of the larger spend level, our team was able to prepare an additional analysis of competitors, which gave the client insights that helped beyond just the search portion of this campaign and influenced business decisions.
Do you want to dominate a competitive online space? Check out our HOTH X Managed SEO service!